Enrichissement de Milieu pour Animaleries
IGLOO POUR SOURIS
Retour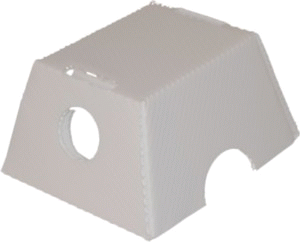 Descriptif :

Igloo permettant les jeux et repos de rongeurs.
Fabriqué en polypropylène alvéolé AUTOCLAVABLE.
Montage sans agrafage.
Livré à plat (en caisses de 100 ou 500).
Dimensions : L.120 x l.100 x h.70 mm
Orifice inférieur : Ø 40 mm
Orifice supérieur : Ø 25 mm.

Description:

Rodent igloo for playing and resting.
Made of AUTOCLAVABLE alveolate polypropylene.
Staple-free assembly.
Not assembled upon delivery (box of 100 or 500 items).
Dimensions: L 120mm x W 100mm x H 70mm.
Lower opening: Ø 40mm
Upper opening: Ø 25mm.

Devis gratuit sur demande

Cartonnerie Budelli EURL - 9-11 rue des Entrepreneurs, ZAC de Coutumel(le), 27530 Ezy sur Eure - France
Claude Budelli

Home